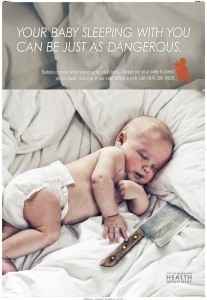 Today's article is not about a baby that was abandoned or abused or even unwanted.  Yet, since our main priority is to make sure babies are kept safe, I wanted to be sure to talk about this issue anyway.
Co-sleeping.  Please don't do it.  Little Alfie Smith died just a few weeks after his injuries sustained by his father falling asleep on him.  I know most people think it is harmless and they could never hurt their baby, but it's not and it can.  Young Dale Anderson did not think it would happen either.  Now he will have to live the rest of his life knowing that he killed his child.   I found a great website that provides lots of information about this practice: kidshealth.org.  While there appear to be some benefits to co-sleeping, when one of the possible consequences is death, do you want to take the risk?
Read this article for details.
Please help us spread the word! Things you can do to help:
Tell your friends and neighbors about Safe Haven Laws.
Share this article on Facebook.
Share this article on Twitter.
email your friends and include the link to this page.
Share everywhere else you can. There is a sharing link at the bottom of this page.
Make a donation to help us spread the word.